Ruger Old Army cartridge conversion cylinders: blued/stainless steel.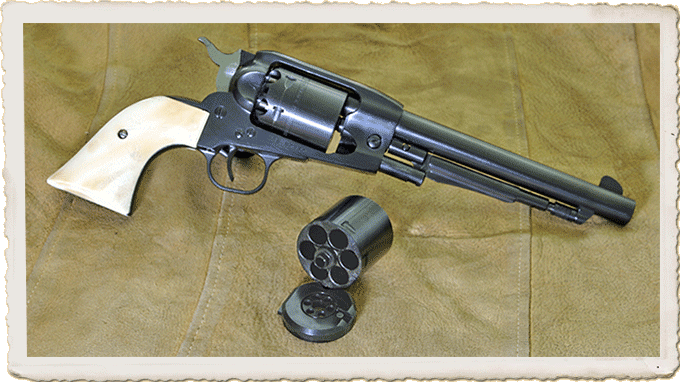 Convert your Ruger Old Army® to .45 centerfire cartridges and keep the same high caliber of accuracy you expect from your Old Army revolver. The .44 caliber Cap & Ball revolver barrel is machined with the exact same bore dimensions as the current .45 caliber centerfire revolver. The Ruger Old Army® bore diameter is actually .452" nominal, which is the same as the .45 Long Colt bore. Therefore the barrel of your .44 caliber Cap & Ball revolver (Ruger Old Army® or '58 Remington replicas) will accurately shoot .45 Long Colt / .45 Schofield lead bullets.
Although for shooting Cap & Ball rounds in the Ruger Old Army®; Ruger recommends using a .457" diameter ball to achieve a better chamber mouth seal and improve accuracy. The greater force that is required to seat the larger diameter ball is easily handled by the sturdy loading lever on the robust Ruger Old Army®.
Add a Kirst Konverter to your Ruger Old Army®
Converts to .45 Long Colt/.45 Schofield
No major gunsmithing or F.F.L. required
It's like having two guns in one, twice the fun
Blued or stainless steel, to match your revolver
Kirst Konverter® lifetime "No B.S." warranty