Colt Pocket Model .22 Conversion Kits fits both .31 and .36 caliber:
• 1848 Baby Dragoon

• 1849 Pocket Model

• 1862 Pocket Navy

• 1862 Pocket Police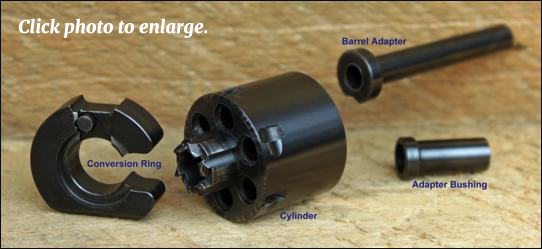 Now everyone who owns a Colt Pocket Model, or an Uberti reproduction, can enjoy shooting these revolvers without the hassle and mess of black powder, by installing a Kirst .22 caliber conversion kit. This Colt Pocket Model kit contains everything you need to convert a Colt Model 1848 Baby Dragoon, 1849 Pocket Model, 1862 Pocket Navy and 1862 Pocket Police.
The .22 conversion kit contains a six-shot .22 cylinder, a converter ring with a spring loaded firing pin, a slip-in barrel adapter and an adapter bushing for switching from .31 caliber to .36 caliber barrels. You can use the .22 conversion kit by removing the cylinder to load and unload, or instructions and a template are included to cut a 3/8" loading port in the right side of the recoil shield, for easy loading and unloading. (See photo).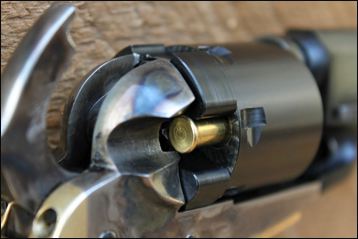 Occasionally timing or tuning adjustments may be required; Kirst Konverter, LLC offers these additional services, as well as custom gunsmithing.
Click on photo to enlarge.